Who are we?
We are interested in you, but you are probably very much interested in us.
Enjoy the read!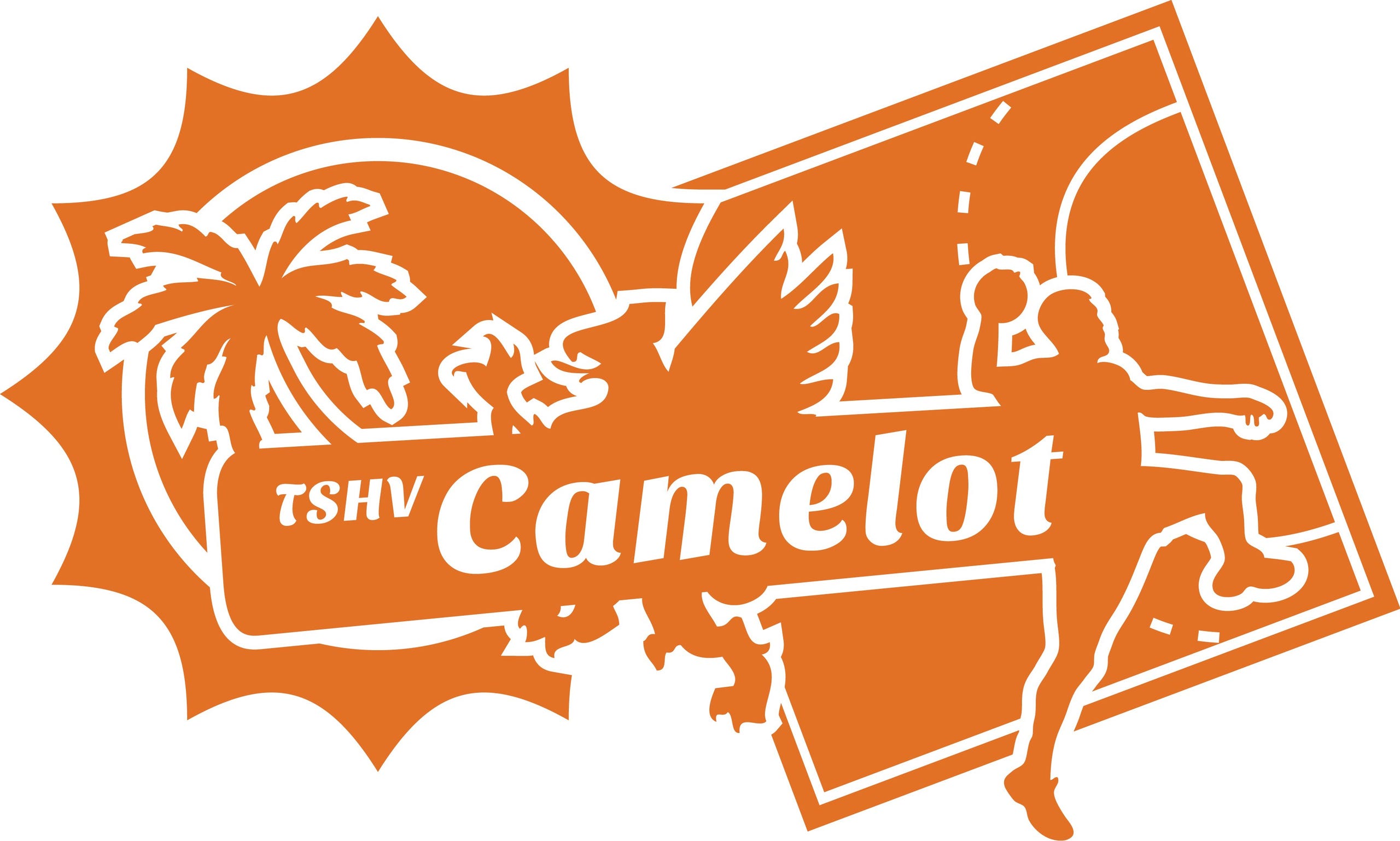 About the Camelot history
T.S.H.V. Camelot is a student handball association connected to the University of Tilburg. Originated as an association for and of students, we are here for all handball enthusiast, who are keen on throwing a ball or two next to their daily activities. Both experienced as beginning players are more than welcome to join.


Fair play is what Camelot represents. Other clubs enjoy playing practice matches against us, because of the positive attitude of our association (also seen in the coaching approach). For the women, there is a competition team that competes in the second class competition of (West) Brabant (South of the Netherlands). This season (2018-2019) the women team is a fair competitor for the competing clubs.


Unfortunately, after many years of a successful men competition team, everyone had to go separate ways and the team fell apart. As a club, we are keen to recreate a men team again and therefore are welcoming all gents to join us for practice. A men competition team is one of our top points on our agenda. For this season, we are investing in a men team that competes in the student tournaments in the Netherlands.


Apart from indoor handball, Camelot is very active in the Summer as well by exchanging the indoor hall for the beach fields at the Tilburg University Sports Centre. In Summer, Camelot is very active in beach handball and trains three times a week (preferably more, obviously). Several tournaments in and outside of the Netherlands are marked in our agendas every year. The past years, our teams have visited (among others) Croatia, Italy, Poland, Switzerland, Greece, Portugal, Spain and Belgium for beach tournaments. Apart from the fun that beach tournaments bring (travel, making new friends from all over the world, parties and fair play) our teams have been a competitive opponent over the years. For several years, both our men and women teams have been able to place themselves for the European Championships Beach Handball (EBT) by winning tournaments around Europe, of which in 2013 the Camelot women won the European title. As competing in our own Dutch Championships, both the men and women have managed to win the title of Dutch Champions in 2011, 2013 and 2014.


Our men are still great competitors for many clubs, manage to win several tournaments in and outside of Europe, and compete as a top team in the EBT (follow their Summer journeys here). For the women, it has been a bit more quite in the past years. With two teams, they have mainly played, because they love the game. But this year it is decided to get the more competitive element back in our first women team in beach handball.

Other than the love for the sport, Camelot also represents 'gezelligheid' (no literal translation of this unique Dutch word, but let's say it's a combination of 'fun' and 'cosiness'). With regular drinks in BrandPunt and many (sporty) activities (see agenda on the home page) throughout the season, we enjoy 'club-bonding' and spend quite some time together on and off the field.


Still not convinced to join our club? Join one of our trainings and we will make sure to convince you then. Hope to see you there!

For news, photos and other currents events, have a look at our Facebook page.
Fun facts
Did you know...?
Sea, sand and... handball
Every Spring/Summer the men and women teams travel around Europe to compete in beach tournaments. Some of these destinations were Portugal, Italy, Germany, Poland, Montenegro and Greece. In the Summer of 2018, we managed to go to the yearly beach handball tournament in Gaeta (Italy) with approximately 30 people, two women teams and one men team. A tradition set for the future.
The T.S.H.V. Camelot board has a secret hand shake that only they know about (so far). However, they would be happy to make it a 'club hand shake'.

Elements such as handball, our club name and the word 'board' are included in the hand shake, which happens to make it highly complicated to learn.
All we do is win, win, win, no matter what
At the moment, we have one women competition team, but we have big plans to expand with an additional women team and a men team in season 2019/2020.
Handball, drink, sleep, repeat
Apart from beach handball tournaments, we also like joining indoor student handball tournaments, such as the yearly tournaments Beertje Battle, Ha-Stu and the Oktopus tournament. These are great combinations of handball, parties, drinking and meeting new people. Keen to join? Send us an e-mail!
Camelot is here for everyone! We are indeed called a 'student' handball association, but are open for all kind of players, even if you are not a student anymore. So whoever you are, as long as you are a (beach) handball enthusiast, please join us for training and possibly even tournaments and competition.
A long long time ago, I can still remember
T.S.H.V. Camelot was founded in 1992, which means that Camelot already exists for 26 years. Camelot competes in the NHV competition for the 26th season, and has celebrated five Lustrums so far.

'Fun fact'-ception: Our oldest board member Kirsten is as old as our association!

Cheers to many more years to come!