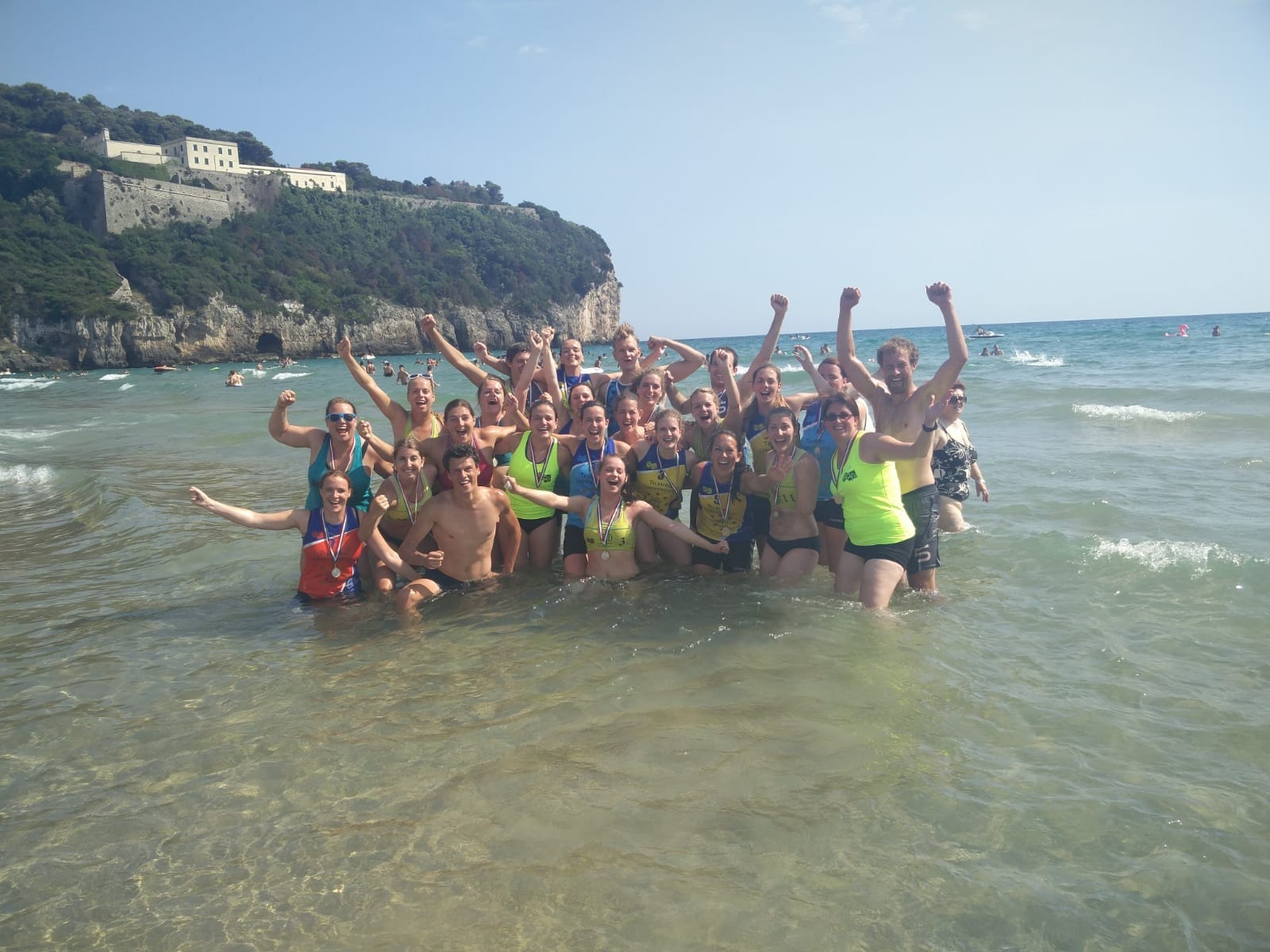 Welcome!
Welcome to the website of student handball (indoor and beach) association T.S.H.V. Camelot, Tilburg. We'd be happy to help you out with all your questions. See you at practice!
Activity agenda
Find the upcoming activities planned for our members below. Become a member and join them all. We'll have a blast!
Carnaval Volleyball Tournament (CVT)
Like every year, Camelot will show their amazing costumes during the Carnaval Volleyball Tournament of FOSST this year. You can see us shine on the 28th of February.
Family (association) Weekend
In the weekend of the 12th until the 14th of April our Family Weekend takes place. The location is still secret. Make sure to sign up before the end of February by filling in the survey in your e-mail (members only).
Half a year GMM
On the 26th of February, the board will organize the second General Members Meeting to discuss how the plans have been realized so far, and what the future plans will be. There's also the opportunity for members to get to know the Camelot tournament!
Beach sports tournament
You better keep the 23rd of May free in your agenda for our 'Beach sports tournament', powered by the association Lacoste (tennis), Gepidae (volleyball) and Camelot (that's us!). This fun evening will be a combination of all beach sports that the Tilburg University Sports Centre has to offer. More information about the sign up will be announced soon!
More activities coming soon!
Game reports
Please respect that we can't upload all our game reports in English.
Camelot VS. Desk 17/02/2019 (English)
Sunday we had a match against Desk. Our coach Hanneke was on vacation, but happily Dion was there to coach us. Before the match Dion told us what to do, and after a good warming up together we started the match. The beginning was quite good, and half way we were in front with 17-10. The second half Dion decided to practice on the 5-1 defense instead of our regular 6-0. This would give us more possibilities to go for the fast turn over. It took some time to get used to this, but eventually it became better. The offense in the second half was more chaotic than the first half so we did not increase the difference in points. In the end we won with 30-23 so we kept the points in Tilburg!! Next Saturday is the most important match of this season. We will play against Groene Ster who we share the first place with. Come and cheer us on at 20 o'clock in Zevenbergen
Camelot VS. Mixed-up 11/02/2019 (English)
Last Sunday we had our second match against Mixed-up. The last time we played against them we had troubles scoring goals and catching and passing the ball. Today we wanted to have an easier match. Hanneke had help today: Dion was also there to coach us and he gave us personal advice during the match which was very helpfull.

After two months, Nina was very excited to play again today. She has a toe-injury but it's gelukkig getting better. She defended her goal for a while this match, but unfortunately one of our opponents landed on her foot after shooting. We were very happy with Anouk as the other goalie today. She started this match, had some great balls and made sure that we could be in lead from the first moment on. After a tough start, we had some good minutes and were in lead with 10-3. Then Mixed-up could come back because we couldn't score and lost the ball several times. The score at half time was 13-8.
In half time Dion and Hanneke told us how to defend them and with a good vibe we started the second half. We scored some goals, but then we had a tough phase again. With some extra power of Jelena by stealing the ball and good stops of the goalies (even penaltys) we felt safe again. In this phase our opponent had troubles defending us the right way and they had 2 minutes more than once. We won the match with 25-18. Jeuj!

Next week we'll play against Desk in Tilburg. Come cheer for us at 12.45!
Camelot VS. Zeeland 27/01/2019 (English)
"Get focused as a team, from the warming-up on." Hanneke was clear in what she expected from today. We needed a win to stay in the top 3, and since we lost against them in oktober, it wasn't so sure in the beginning. I was really nervous (maybe because I wasn't able to play myself) and so was Hanneke when the first minute started.

The match had a great start with nice goals from both sides, after 5 minutes it was allready 3-3. a head to head race in a really nice speed. The whole first half we played as a team and in the last few minuts of the first half we were (with some great saves from Eslie) ahead with 3 goals difference.
Keep focus, pretend it's 0-0 again, was the task for the second half. In this half we had some luck, but most of the time, we played even more as a team and everyone took their chances! Really steady defense and in offense we were patient and played our own game. Watching this game made me excited for handbal in general, it was nice to see that even our mid defenders where able to make fast breaks. Athough zeeland was good it stopping our fast breaks, It was a good match, zeeland was not able to come in to the game. In the end it was 26 against 16, and with this large number of goal difference we are still 1st in the competition.

I'm really proud of all the girls and I hope that we can keep up this game all the other matches!

So focus on for the next game,sunday Feb 3th 12.45, against the always suprising HMC. We would really like you to come and support!
Camelot VS. Tachos 20/01/2019 (English)
Last Sunday late in the afternoon we played a match against Tachos. After a few minutes of playing we were in the lead. But as the game progressed we got a little bit sloppy and chaotic. We stopped playing our own game and went along with theirs. However, we never got into danger and after 30 minutes of playing half time score was 10-6 in our favor. During the peptalk we got the assingment to play handball again. Also we should be able to do a lot more than we already showed and double the difference of 4 goals. With that in mind we started the second half. Our goalie Eslie stopped some great balls and in offense we showed some nice attacks which lead to an end score of 25-13. Yep, we doubled the difference of goals from the first half; mission accomplished.

Due to this victory, we are now back at the first place!! :) We celebrated this with the whole team by going out for dinner.
This Sunday we will play our home game at 12.45 against HC Zeeland. Come and watch and cheer us to the victory! :)
Camelot VS. RHV 13/01/2019 (English)
Today we played against RHV. For a lot of our team members this was a match against their former club so the nerves were present. But besides the nerves this also meant we had a lot of supporters! We also had a lot of players, the bench was completely filled with 7 'wissels', so we could run like crazy and asked for a break after 5 minutes. Perfect for me. Unfortunately after the warming up Char turned out to be too ill to play but she stayed the whole match at our side and supported us. Get well soon Char!!!
We started the match with enough pressure and scored our first goals which resulted in a 4 points difference in our favor. RHV catched up and it stayed an interesting match with nice actions from both sides. Half time result was around 4 points difference (no idea about the score).

In the second half we had some difficulties with scoring and RHV came pretty close to us. Luckily enough we had Eslie at our side who made some amazing saves (thank you!!). It remained super spannend till the end since RHV stayed super close with us being only 2 points ahead. In the last minute we managed to score 2 extra goals so the end result was 19-15 for us!

Joepie!! We deserved some nice drinks to celebrate and ended the afternoon with extra fries, pitchers, chipjes and some great games of Perudo!
Camelot VS. Internos 06/01/2019 (English)
For our first match of the new year (it was also the first match of the second half of the season) we went to Etten-Leur to play against Internos.

To put the match into perspective, it is quite interesting to look at our league's ranking. There are 4 teams being very close at the top of our league who share the first 4 spaces, and we are one of them :) Internos is on the 5th space with a little distant but they showed to be dangerous since they won against Heerle, the team which stayed on rank 1 for most of the time of the first half of the season.

We definitely went with a little tension to our opponent since we really wanted to take the points home. Unfortunately, Nina was still injured and Anouk (thank you Anouk!!!) agreed to keep the goal clean. We knew she needed some extra help from our defense so we were extra alert.

We found a good start into the match, our back players had enough space to shoot some great distance shots and also the wing players and our circle players (also a debut for Sanne) got great chances. Therefore, we went into the halftime break with a 16:12 difference in our favor.

In the second half, we started like we ended the first half and at a certain point we apparently even led with 8 goals (source Irès)!! Unfortunately, we started to make some mistakes, played too fast and were also unlucky the last 20 min of the match. Maybe we just wanted to make it exciting again for the audience ;) Internos managed to get closer and 1 minute before the end of the match there was only a 1 goal difference. But we managed to score a last time and when the time was up the match ended 26:24 in our favor.
Looking again at our league's ranking taking all matches of Sunday into account:

The 4 teams, I mentioned in the beginning, are now all having 20 points. It will, therefore, stay interesting in our league!! With our goal difference of 60 goals, we are now on spot 2, behind Groene Ster (goal difference 63).

And a final thing, we want to welcome Britt in our team who showed yesterday that she is a great addition to our back players. If you want to get amazed by her canon shot then come watch our match next Sunday in Tilburg at 12:45h in the Sportcenter against RHV!! Looking forward to seeing you there.
Camelot VS. Heerle 09/12/2018 (Dutch)
Zondag speelden onze dames thuis tegen de koploper Heerle. Het beloofde een spannende wedstrijd te worden. Beide teams leken de spanning wel te voelen, er werd maar weinig gescoord in het begin van de eerste helft. Tot aan de rust gingen we, onder toeziend oog van heel hc Zeeland, nek aan nek. De ruststand scheelde maar 1 puntje, 9-8.

De spanning bleef ook de tweede helft. Vaak scheelde het maar 1 of 2 punten. We waren allemaal blij met Eslie, die inviel voor onze geblesseerde Nina! Zij pakte een paar mooie ballen. De dekking stond lekker, ook petje af voor Kirsten! Aanvallend wisten we als team ook het net te vinden. Uiteindelijk 1 keer vaker dan Heerle, winst met 20-19! Iedereen blij en we hebben de avond heerlijk afgesloten met Sinterklaas. Op naar volgende week!
Camelot VS. White Demons 02/12/2018 (English)
Even though everyone was still everyone was still slightly sleepy (our game started at 10.00), after our loss of last week, we were determined to bring the 2 point back to Tilburg!
Starting with a good, synchronized warming up and a motivating talk of Hanneke, the spirit didn't seem to be there yet in the first couple of minutes. White Demons woke us up by suddenly being in front with 3-1 after 10 minutes played. We had to step up our game. We managed to keep up with them and got closer. At half time, the score was 14-13 (advantage of White Demons).
For some reason, after the evaluations in half time, we start the second half with another mind set, as did they by a man-to-man defence on Janna (since she suddenly scored a couple of great goals at the end of the first half) at the beginning in the second half. Luckily our line player Heleen had plenty of space and by great passes from the half players, she managed to lay some balls in the net. We were back in the game. White Demons noticed that she was dangerous and almost took her out by injuring her head with a tooth (?!). After a little break and some ice, Heleen was back in the game.

In the last 3 minutes, we were only with one point in front. It's now or never. With a distance shot from us on the pole, Ires (making her debut after her injury) on right half got the ball and lopped it beatifully over the goali. Two points in front! The defense was closed and Nina kept all the fast, distance balls out of the goal. With only 13 seconds on the clock, our last goal fell in the last second.

The eventual end score was 19-22. We're taking the points back to Tilburg! Next week we play in the Sports Center in Tilburg against Heerle (big competitor), and obviously plan to keep the points in Tilburg. The start of the game is at 12.45h! Be there or be square, all possible support is appreciated
Camelot VS. Groene Ster 25/11/2018 (English)
This Sunday we had our match against Groene Ster. We started the match strongly with 4 goals from our side and 0 for Groene Ster. But GS came back and also made their goals. From that point the teams took turns in the lead but in the end it was GS who had the most points in half time: 9-12. We had a lot to discuss if we wanted to win this match. The conclusion was that it seemed like we were off and not with our heads at the game. In defense we needed to communicate better and more and play more like a team.

We started the second half good, with multiple goals from our side, but it was not enough. We lacked sharpness and our defense was not as strong as it normally is. After 60 minutes of playing it was decided: Groene Ster won the match with 22-28.

Of course it's no fun losing a match, but we learn from this and next time we go all in!

Sunday morning december 2nd we will play against White Demons in Berkel-Enschot.
Camelot VS. Desk 18/11/2018 (English)
Last Sunday we had our match against Desk at 14:45 in Kaatsheuvel.

We started a little bit slow, but after 10 minutes we started with finding that back-end of the net. Our defending wasn't that good, and time to time we let Desk score really easily. By the end of the first half, the score was 9-13 in our advantage.

The bad defending was definitely a wake-up call, so we started the second half with full power. We played a lot faster, which resulted in some quick turnovers and beautiful goals. Even our defence was way better, and we only let them score 6 more goals. The final score was 15-30, so we took the full 2 points home to Tilburg!

That means that we are right back on the top of the competition! Let's keep that first place!

Next week we will play against Groene Ster at the sports center in Tilburg. We hope to see you there!
Camelot VS. Raamdonksveer 15/11/2018 (English; Cup)
Last Thursday evening we had our first cup game of the season. Our coach said 'the cup game is not as important to win than the competition games', which is absolutely true, but we were all highly motivated to beat Raamdonksveer once again. Two weeks before, we played a game against them and every now and then during the game struggled a little.
While warming up (great playlist playing of our coach Hanneke) our own Camelot members slowly dropped in to check out the match. We were ready. The ref gave the start signal and after the first couple of minutes we were 2-4 behind on Raamdonksveer. What was happening? We had to step up our game. Soon enough we managed to catch up with them and went into the break with 16-8 in advantage of us, which was great, but it was only the end of the first half.
With now and then struggling with the decisions of the referee (correct defending wasn't appreciated), we managed to start of well with a couple of breaks in the second half. The defense was steady and Nina kept the balls she had to have, but they were still shooting sharp. Although, we managed to keep far in front and one ball after the other reached the net of the goal of Raamdonksveer. With our last goal in the last 2 seconds, we won with 35-15.
Which means, we're still in the running for the cup and no we didn't get rid of the games through the week. We wanted to thank all the support of our members, we won the match together! Hope to see you next time :)
Camelot VS. Mixed-up 11/11/2018 (English)
Match report written by Yvonne and Janna!


Last Sunday we had our match against Mixed up. Although we didn't know the team, we wanted to win, so we were very excited. Unfortunately, this excitement did not result automatically into a good match from our side. We lost the ball way too much in offense and had problems scoring goals. In defense we were very strong and played as a team. Only the unpredictable "underhand" throws were giving us some troubles. Therefore, we went with a 10-9 score into the half time break. Hanneke had some advice for us and with good spirit we started the second half. Mixed up kept throwing their famous balls but our defense blocked most of them and of course we also had our amazing Nina in the goal! As a real team, including the cheering team mates on the bench (some people in the audience even said they were too loud.. "say whaaat??"), we managed to win the match with a difference of 4 goals. The final score was 23-19.


This week we only have one practice. On Thursday (21:15h) we'll play a cup match against HMC. We beat them 2 weeks ago, so they'll definitely want revanche. Are you going to cheer us to the next round??? We prefer loud cheering 💪
Camelot VS. Raamdonksveer 3/11/2018 (English)
Match report of last Saturday's match written by Sanne!


Saturday evening, November 3th, we had a competition match at Raamsdonksveer. Unfortunately Hanneke was not there to coach us, but Carmen and Jasper were there to take over the coaching task. The game started really slowly, so after 12 minutes of play there was only a 2-1 score on the scoreboard! Fortunately, the pace went up a bit and we could finally make some nice goals. With halftime the score was 5-11 in our favor. After a pep talk in the dressing room with some instructions from Carmen and Jasper we went back into the field. The plan was to play more goal-oriented and keep up the pace. Thanks to good goal keeping by Nina we could bring the final score to 15-23. We did celebrate this victory with a delicious crumble cake baked by Tara (for Anouk's birthday :) )

Thank you Carmen and Jasper for coaching!
Camelot VS. Zeeland 28/10/2018 (English)
On this beautiful cold and sunny sunday we went to the middle of nowhere (zierikzee). After a good coffee stop we start de game with a lot of focus. The first half we created a lot of possibilities to score but we didn't exploid them all. Due to this the half time score was 8-9 in our favor. The second half we started stronger than the first half so we were able to create a gap of 4 points (13-17 in our favor). Unfortunately we were not able to keep this till the end. Conclusion: we lost with 1 point difference in the last minute of the game...
Heads up for our next game on coming saturdayevening the 3th of November 20:30h in Raamsdonkveer.
All support is welcome!!!!
(Matchreport is powered by Jelena and friends from the carpool karaoke car Nina - Coffee - Mussels - Dropfruitduo's and Kitkats)
Camelot VS. Tachos 14/10/2018 (Dutch)
Vandaag speelden we in het zonnige zuiden thuis tegen Tachos. De oude club van Heleen en Jelena, daar moesten we natuurlijk van winnen! Het weer zat mee, de zaal was een sauna en we waren helemaal compleet! Nadat we wat prachtige plaatjes hadden geschoten van het team, kon de warming-up beginnen. Na 2 stappen droop het zweet al tussen je bilspleet, maar niks hield ons nog tegen, wij hadden er zin in!!! Na het fluitsignaal begonnen wij de aanval die helaas al snel werd afgebroken. Gelukkig staan we als een huis in de verdediging en werkten we als een team! Toch wist Tachos er hier en daar wat ballen in te schieten. Door de cirkeltraining van afgelopen week, wisten we elkaar goed te vinden in de aanval. Het ging gelijk op en de eerste helft werd dan ook afgefloten met een tussenstand van 10-10. Spannend!
Na de rust waren we ervan overtuigd dat we deze wedstrijd konden winnen. We bleven lopen, maakten mooie acties, in de dekking bleven we hard werken en Nina stopte bal naar bal (zelfs met haar gezicht, no fear). Wel hebben we het record paal- en latje-schieten verbroken, maar ondanks dat kregen we meer ballen in het net dan Tachos. Op een gegeven moment kwamen we een paar punten los en vlogen we eroverheen. De wedstrijd sloten we af met een eindstand van 23-19. Het was een leuke en sportieve wedstrijd. Volgende week hebben we vrij, kunnen we extra lang genieten van onze eerste plek! 3 wedstrijden gespeeld, 3 gewonnen. Laten we zo door gaan meiden! We can do it!!!

Yeah yeah BAM!
Camelot VS. Internos 30/09/2018 (English)
Last Sunday we had our first match of the competition, which we won. Anouk wrote the match report.


Last Sunday, the 30th of September, it was time for our first match of the competition. Our opponent was Internos D3.

We played a good first half and at half time the score was 13-7 in our favor. Our goal for defense for the second half was to keep up the good work and for the offense the goal was to reach 30 goals. If we would reach the 30 goals we would get a round from Hanneke and we could enjoy some bitterballs!

Unfortunately the end score was 29-15, so no bitterballs for us this time... But we are happy with this great start of the competition and are looking forward to the next game!
Sunday 7th of october we will play at 12.55 against RHV in Rijen.
Café BrandPunt
Since September 2018 Camelot is a partner of café BrandPunt in Tilburg (Piusplein 7, 5038 WL Tilburg). We regularly organize drinks and get togethers at this cosy bar. Make sure to come by, when you happen to be in Tilburg!
FOSST
FOSST is the main association of the sports center, under which all student sports association are located. Which obviously also counts for Camelot. As Camelot, we value a good relationship with our friends from FOSST. Find more information about what FOSST stands for and all the things they do, here.
e-Boekhouden.nl
Since October 2018 Camelot works with a new book keeping system, which makes the general secretary and treasurer tasks for this year's board and future boards a lot easier.